CNN

Trump respects Bush's death
Capitol Rotunda, Washington DC
silent moment before the casket
"Trump handles Bush's death with abnormal normality" Politico
1 minute and 31 seconds silent prayer for the former President George H. W. Bush reminds John Cage' silence - sielnce is not silent.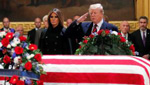 Dec 7
NASA

Martian wind
Mars
NASA's InSight lander records first sound of wind on Mars
Sounds of Mars: NASA's InSight senses Martian wind.
Data from the seismometer on InSight of vibrations caused by wind moving over the sola panels of the lander. This recording is pitched up two octaves to make it easier to hear through different types of speakers.