Sound Calendar of the Year
"Sound Calendar of the Year" (Ecology Sound Calendar)
Conceived by Jin Hi Kim
How to participate in the project

Project Introduction
Sound Calendar of the Year is created with an expansive environmental audio collection ranging from daily living to contemporary urban life to natural sound environments in multiple geographical locations on Earth. These recordings may range from human noise, the timeless sonic landscapes of forests, living environments, unusual sounds, frogs and insects behaviors that have been affected by climate change as well as sudden sound shifts associated with weather disruptions created by hurricanes, snow storms, floods, wildfires or other environmental causations related to global warming.
The purpose and results of the sound calendar will be a balanced juxtaposition between scientific and artistic collaboration. The artistic vision to the collected environmental sounds will enhance inspiring people to observe sonic atmosphere around us on the earth everyday throughout the year. Depending on the design of the sound calendar, the project may continuously grow and extend into the enormous possibility of an eternal sound calendar.
Sound Calendar of the Year 2018
Sponsored by the College of the Environment, Wesleyan University




When we observe visual images of horrific environment devastation, we are deeply impacted by radical change that is causing pain for millions world-wide and it alerts us to concerns and cause for a better living environment. Not as evident is the way that the changing sound environment impacts our lives in both obvious and subtle ways. If we pay attention to sound daily, monthly and yearly, we become aware of the soundscape around us that is reflection of either human living style or discovery of living environment. Sound Calendar of the Year is a sonic form that juxtaposes existing sounds created by both nature and human behavior.
Sound Calendar of the Year 2018 is a pilot project that develops the foundation for future sound calendars. Anybody around the world may participate in the project as a volunteer and will collect environmental sounds with smart phones (mp3) of sound spanning acoustic environment from nature to urban noise and innumerable other sonic environments as discussed above. In addition professionally recorded material will be collected from around the world by a group of audio researchers and archivists. How to participate in the project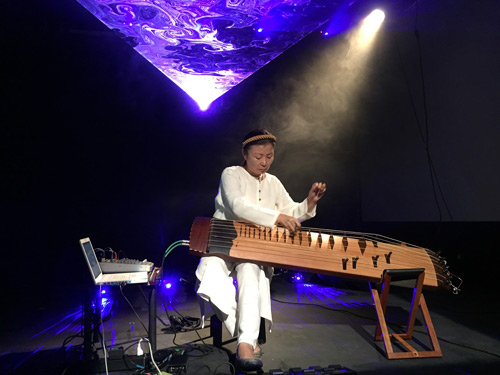 Jin Hi Kim
In addition to her komungobot development, interdisciplinary projects and Living Tones compositions Kim now has a deeper understanding of her commitment to the community and concerns about social, political and environmental issues. She is creating Sound Calender of the Year, an Ecology Sound Calendar for environmental issues at the College of the Environment, Wesleyan University. She occasionally presents Music Meditation Workshops at the Connecticut Mental Health Center, Yale University.