Cross-Cultural Music Meditation (CCMN)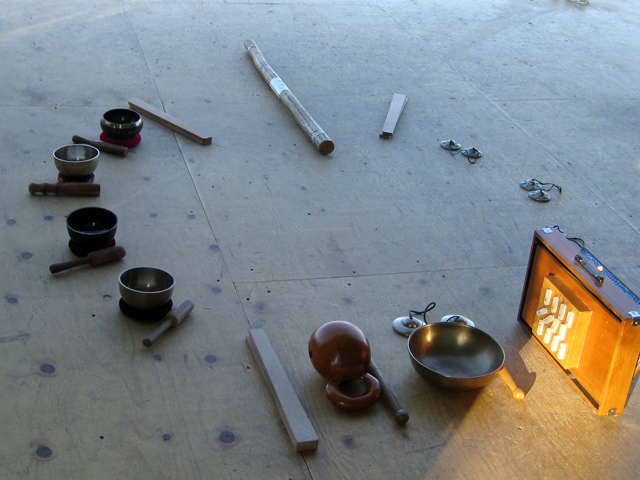 Booking Cross-Cultural Music Meditation (PDF)

Cross-Cultural Music Meditation (CCMM) Workshop

Music for Humanity and Healing
Cross-Cultural Music Meditation (CCMM) is an exposure to the basic aesthetic and philosophy of Asian music and instruments. Through the sessions, participants gain first-hand experience of the role music plays in meditation and the benefits it offers to develop a calm, peaceful, focused group creativity.
CCMM directed by musician Jin Hi Kim, include a group chant (sonic text) and a creative music ensemble created through listening and playing various Asian percussion instruments. These instruments (singing bowls, finger cymbals, temple block, harmonium and clappers) have an historic role in various Asian meditation practices. At the conclusion of the workshops there will be a culminating performance with participants and Kim will perform komungo (4th century Korean fretted board zither), which was historically played by the aristocracy for individual meditation.
CCMM has been presented with support from Meet The Composer Music Alive Composer Residency, McKnight Visiting Composers with American Composers Forum, and the Department of Economic and Community Development/Connecticut Office of the Arts, which also receives support from the National Endowment for the Arts.
Contemplative Neuroscience: Where Meditation Meets MRI Scanners
http://religion.blogs.cnn.com/2010/10/26/can-meditation-change-your-brain-contemplative-neuroscientists-believe-it-can/
History of CCMM
In 2009-2011 Jin Hi Kim was awarded Meet The Composer/Music Alive Composer in Residence with New Haven Symphony Orchestra. During the residency she has developed a highly successful Music Meditation Workshop for New Haven area youth. Due to enthusiastic responses from the participants Ms. Kim was invited back to continue the Music Meditation Workshop, as Komungo Master in Residence 2011-2012 with New Haven Symphony Orchestra, to serve for the community including Corporations, CT Mental Health Center at Yale, and Senior Center. In 2013 Kim received McKnight Composer Visiting Fellowship to develop Cross-Cultural Music Meditation (CCMM) working with Minneapolis and Saint Paul community. Kim was 2014 Artist-In-Residence at composer Lou Harrison House to present CCMM for the community in Joshua Tree, California. In 2014 and 2015 Kim received Arts Catalyze Placemaking grant from Department of Economic and Community Development (DECD)/Connecticut Office of the Arts to present her CCMM throughout the Connecticut community. In 2019 Kim presented CCMM for Ohio Regional Music Arts Cultural Outreach.
The meditation practice builds on the historically universal role of music as an essentially social, spiritual, healing and entertaining/celebratory function in the society.
Jin Hi Kim says, " Music always has been deeply spiritual connection with human.
I feel very rewarded that this workshop has been so meaningful to a wide range of participants including inter-city students, clients at hospital and clinic, teachers, adults in general, and corporations who are looking for wellness in the lives of their employees."
Music Meditation Workshop
Music Alive Composer in Residence with New Haven Symphony

CCMM Presented At
Yale Connecticut Mental Health Center, New London Maritime Society, Intensive Education Academy (West Hartford), St. Martin de Porres Academy (New Haven), MacPhail Center for Music, Children's Hospital of Minnesota, Tubman Center (Minneapolis), Wayside House (St. Louis Park), Lou Harrison House (Joshua Tree, California), Copley-Fairlawn Middle School (Ohio), and many K-12 schools in Connecticut.
Testimonials on Kim's Workshops
Kyle Pederson, Director at CT Mental Health Center at Yale:
"We believe that such creative and group-building workshops strengthen the recovery process by giving our clients opportunities to try new things and engage in a learning community with their staff and peers".
Cynthia Randolph, staff at CT Mental Health Center at Yale:
"I have attended each of her workshops and want to continue to support CMHC's use of her workshop to help encourage and empower the use of holistic approaches to mental health care. My clients are strong enthusiast of her workshop and have indicated that they have experienced powerful changes in their attitudes and progress in their treatment as a result of participating in her workshops".
Clients at Wayside House and CT Mental Health Center:
" After the third day I began to feel grounded, while my self esteem started to grow. I became able to empty my mind and was able to stay in the moment. The sounds of the instruments put me in a trance. I believe this workshop to be extremely powerful and certainly a privilege to attend."
"It healed my mind!"
"It was not only very interesting but mind blowing as far as how the whole group bonded and came together as a whole"
Steve Mark-Hamilton, Retired Art Teacher:
" I fell under her hypnotic presence, as she guided a group of unacquainted students in an understanding of oriental cultures. Although each of us brought our own experiences with us, we quickly shed our preconceptions and worked for the common cause, which led to a sense of peace and respect. This was a great workshop, masterfully taught to unacquainted individuals. We became one, and greater as a whole."
Craig Carnahan, Vice President at American Composers Forum:
"In a short amount of time she was able to create a sacred space with a luminous soundtrack".
Kathryn Morse, Primary Music teacher at Wintergreen Magnet School said of the experience, "Through her program of Music Meditation our students discovered a new world of music and instruments, but most importantly discovered their own inner energies and strengths through quiet focusing and meditation".
Adrianna D. Bates at New London Maritime Museum:
"I found the Music-Meditation, workshop to be extremely therapeutic and fulfilling, on a mental, physical and spiritual level. Physical, as well as emotional progress occurred in the group through our continued progress in the music and meditation process."