A black crane (bird of sky) flew to the ancient komungo resulting in the name 'black zither'

Ghost Komungobot

Duration: 60 minutes
Performers: Jin Hi Kim-electric komungo, komungobot (virtual robotic instrument), Alex Noyes-sound designer, Benton Bainbridge-visual design and Federico Restrepo-lighting designer

First Performance: CultureHub Refest, La MaMa Experimental Theatre, NYC (December 12)
Notes: Work-In-Progress Artist-In-Residence at CultureHub (2015); Additional Performance: Composers Now Festival, New York (January 30, 2016); Bandung International Digital Art Festival, Indonesia (July 17, 2016)



Ghost Komungobot is an interdisciplinary live interactive performance of electric komungo and komungobot (virtual robotic instrument) with visual media. The mystic bird of ancient komungo is expressed as a ghost referring to the virtual komungobot. The work is the result of Kim's on-going research and live interactive performing techniques since she initiated an evolution of the 4th century Korea komungo into the world's first electric komungo in 1989. Kim has had encounters with mystical birds appearances during her komungo tour in Java and Sulaweshia Islands in Indonesia and Native-American ancestral lands. Kim has been creating the work based on the storyline of her true Shamanistic experiences.

Digital Buddha Solo

Jin Hi Kim's new direction of komungo solo recital, Digital Buddha is a 60 minutes long multimedia performance with video mandala and digital image mix with extraordinary juxtapositions, fast cut swirling images of a deconstructed electric komungo. The work transforms the neurotic intensity of American life to daily Asian meditative practice.

Kim's komungo music represents an evolution of the instrument into the twenty-first century, a development she has pursued over twenty five years. Kim has created a wide array of pioneering compositions for the komungo not only as soloist but also collaborated with leading Western contemporary classical musicians, orchestra, jazz musicians, improvisers, and co-designed the world's only electric komungo.

Her new komungo music is imbued with meditative and vivid energy that makes it mesmerizing. The electric komungo was built for Ms. Kim by Joseph Yanuziello in Canada in 1998. In collaboration with Alex Noyes, she has created the live interactive pieces for the electric komungo and MIDI computer system. Using MAX/MSP, the komungo sound is processed through a personal computer program, and she is then able to blend acoustic and processed sounds using MIDI foot pedal. Staying true to the nature of the instrument, her solo interweaves from old timeless mind to space-age blips.
"Virtuoso, Jin Hi Kim promises thoughtful, shimmering East-West amalgams in combinations that are both new and unlikely to be repeated." Peter Watrous, The New York Times

"Kim performs brilliantly and evocatively on an amplified komungo."
Joseph McLellan, The Washington Post

"True world music being made here, both ancient and modern and without borders. Outstanding." Dennis Yudt, Pulse Magazine

"Kim's solo was a study in zen-like elegance." Andrew Jones, Option Magazine

"With her electric komungo, she floated sustained tones and rudimentary melodies or plucked twangs suggesting a jaw-harp or hinted at the bent notes of the blues."
Jon Pareles, The New York Times

"A lush solo improvisation stays true to the nature of the komungo while showing real imagination about how its sound can be processed and coloured." Clive Bell, Wire Magazine

DIGITAL BUDDHA (2006-2014)
Duration: 70 minutes
Performers: Jin Hi Kim-komungo/electric komungo
with image (Joel Cadman-video mandalas and Benton Bainbridge-video mix)

First Performance: Commissioned by Lower Manhattan Cultural Council's Swing Space, Premiere at Korea Festival, KT Art Hall, Seoul, South Korea (October 6, 2007)
Notes: Preview at Lower Manhattan Cultural Council's Swing Space under Artist-In-Residence (December 13, 2006); Additional Performances at Roulette, New York (November 16, 2007); University of Michigan Britan Hall (March 15, 2008); Expo Zaragoza, Spain (July 28-29, 2008); Festival Sinsal 6, Museo do mar Galcia, Vigo, Spain (July 30, 2008); Korean Artists Overseas Series, Korean Cultural House KOUS, Seoul (November 28-29, 2008); Detroit Institute of Art (April 24, 2009); Roger Williams University Performing Aert Center (February 8, 2009); Colby College Strider Theater, ME (March 9, 2009); Arts & Idea Festival, New Haven (June 18, 2010); Festival Salihara, Jakarta, Indonesia (September 29-30, 2010); Asian Pacific Festival at Stanford University, CA (February 9, 2012); Metropolitan Museum of Art in conjunction with Met's Sila Exhibition (January 30, 2014); International House, Philadelphia, PA (October 25, 2018)
Digital Buddha Duo
"Cosmic Music Meditation, as if their (audience) consciousness was carried into outer space."
Tempo (Jakarta)
Jin Hi Kim's Digital Buddha at Metropolitan Museum of Art, New York

Review: Tempo Magazine (PDF)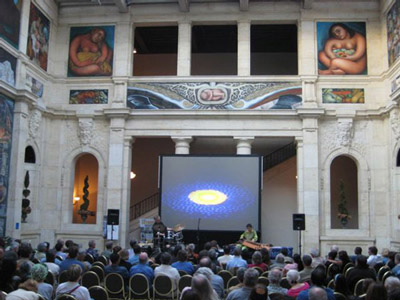 Detroit Institute of Art (2009)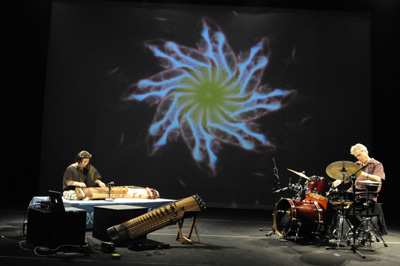 Festival Salihara, Jakarta, Indonesia (2010)

Download PDF Poster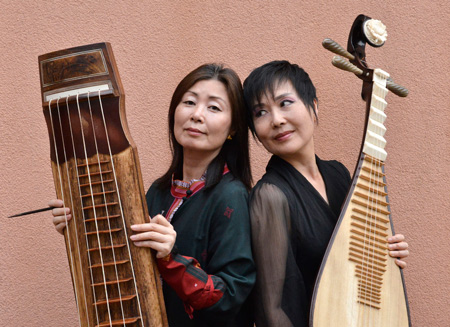 ASIAN SOUND REVOLUTION DUO
Traditional & Innovative Virtuosi Jin Hi Kim (komungo/electric komungo) and Min Xiao Fen (pipa/voice) perform on fretted string instruments from Korea and China.




Jin Hi Kim and Min Xiao-Fen at International House, Sponsored by Center for East Asia Studies at University of Michigan



Jin Hi Kim and Min Xiao-Fen at Henry R. Luce Hall, Sponsored by the Council on East Asia Studies at Yale university


Download PDF Poster

Improvisation Workshops (PDF)



Electric Komungo Solo



Jin Hi Kim's Exceeding for Electric Komungo at Smithsonian's Freer Gallery, Washington, D.C.


Multimedia Performance


REVIEWS

TOUCHING THE MOONS
"Her unique vision blends science fiction images, state-of-the-art technology, ancient mythology and
timeless music and dance traditions. No other artist is doing work quite like this, and she does it with superb style."
Joseph McLellan, The Washington Post

"Kim's austere music centered the work.... (she) applied the techniques of "living tones" to sustained notes:
filling them with vibrato, tightening them until they broke, using glottal stops to make them ripple like waves
around a rock....She turned Korean court-orchestra music into a haze of distant fanfares and
remembered rites, from a time when the moon was a divine power."
Jon Pareles, The New York Times

DRAGON BOND RITE
"(Dragon Bond Rite) cut across barriers of language, culture and tradition, touch us at deep, irrational levels
result in a work that speaks to our common humanity."
Joseph McLellan, The Washington Post

"It's wonderful to see these diverse Asian styles converse. All the movements are grounded,
yet how differently shaped and accented, how diverse the way feet strike the floor.
In Kim's score, the styles of the master musicians actually merge."
Deborah Jowitt, The Village Voice

"The production's drummers were percussion virtuosos, and its singers displayed a remarkable range of
vocal techniques, from high-pitched chanting to deep, awesome rumblings."
Jack Anderson, The New York Times

"a ground breaking collaboration, one which illuminates the artistic soul of Asia."
Thomas Morley, Asian American Press (MN)

"She is a paragon of how divergent cultural disciplines can merge to produce something not only vibrant,
but also smart and forward thinking."
Manny Theiner, Pittsburgh City Paper


DONG DONG TOUCHING THE MOONS (2000)
a multimedia interactive performace for music, dance, digital animation, light and computer
Duration: 70 minutes
Performers: Jin Hi Kim-electric komungo, Samir Chatterjee-Indian tabla, Kang Kwon Soon-Korean kagok singer, Parul Shah-Indian kathak dancer, Hong Sin Cha-Korean modern dancer, Tennesse Rice Dixon-digital animation designer, Alex Noyes-multimedia designer, and Tony Giovannetti-lighting designer

First Performance: Commissioned by The Kitchen through funds from Arts International Inroads and the National Endowment for the Arts in a consortium with MASS MoCA; Premiere at The Kitchen, New York (May 9-13, 2000)
Notes: Preview at MASS MoCA under Artist-In-Residence (March 25, 2000); Additional Performances at kennedy Center for the Performing Arts, Washington, DC (October 9, 2002); Wittenburg Series at Kuss Auditorium, Springfield, OH (October 14, 2002)

Touching The Moons won the Wolff Ebermann Prize of International Theater Institute, Germany. Kim challenges the duality of Asian mythology and American scientific exploration of the moons of Saturn, Mars, Uranus, Jupiter, Earth and Pluto. A multi-media lunar ritual utilizes the electric komungo, Indian tabla, Korean kagok singer, and Indian kathak dancer with live interactive computer-controlled MIDI systems to interface with sensors and digital animation.


DRAGON BOND RITE (1997)
a Cross-cultural Pacific-Asian Mask Dance and Music Drama
Duration: 90 minutes
Performers: Shonosuke Okura-Japanese otsuzumi drum and Sadamu Omura-noh singer, Choi Jong Sil-Korean janggo drum and Kang Kwon Soon-kagok singer, Unikrishinan Nambir-Indian mizhavu drum, I Gede Putu-Indonesian kendang drum and I Wayan Sira-dalalng singer, Kongarool Ondar-Tuvan throat singer, Jin Hi Kim-Korean komungo, Lee Jong Ho-Korean mask dancer, I Ketut Rina-Indonesian topeng dancer, Indian Margi Madhu-kudyattam dancer, Akira Matsui-Japanese noh dancer and Richard Emmert-English noh singer.

First Performance: Commissioned by The Japan Society through funds from Mary Flagler Cary Charitable Trust and the Rockefeller Foundation, Premiere at the Japan Society (New York) for its 90th Anniversary (June 4-6, 1997)
Notes: Work-In-Progress Artist-In-Residence at Rockefeller Foundation Center, Bellagio, Italy (May 1996); Preview at the Walker Art Center, Minneapolis (May 30, 1997); Additional Performances at the Kennedy Center for the Performing Arts, Washington, DC (June 9, 1997); The Festival of Asian Arts, Hong Kong (November 13, 1998)




Flowing Constancy

Flowing Constancy brings together three improvising composers from distinct
world music cultures with soloistic virtuosity and a unified group empathy.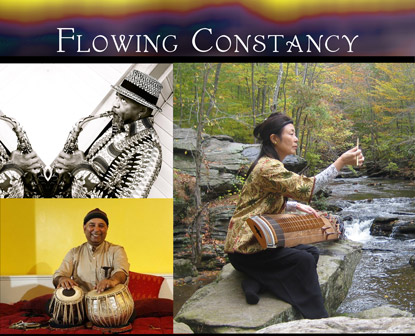 Jin Hi Kim (komungo), Oliver Lake (saxophone), Samir Chatterjee (tabla) at Roulette, New York





SANJO ECSTASY (2003)
for electric komungo, gayageum, haegum, janggo, percussion and Shaman trance dance
Duration: 90 minutes
Performers: Jin Hi Kim-electric komungo, Ji Aeri-kayagum, Kang Eunil-heagum, Park Gun Yong-janggo, Gerry Hemingway-drum set and Kim Mae Mul-a shaman trance dancer

Following Jin Hi Kim's appearance in the national MBC-TV broadcast of the film 100 Yars of Sanjo Ms. Kim's Sanjo Ecstasy was premiered to overwhelming success at Sanjo Festival in Jeonju, South Korea in 2003. Sanjo Ecstasy features new generation of Korea's leading musicians performing exotic traditional instruments (kayagum, haegum, janggo), with American jazz percussionist Gerry Hemingway and Jin Hi Kim's electric komungo.

Sanjo has sophisticated melodies and highly a developed rhythmic structure in the various rhythmic cycles. The Sanjo melody is very expressive, meanwhile Buddhist meditative aesthetic is carried out through the long progression of time. In the Sanjo form, the time sense is riveting, hypnotic and almost trance like in it's manner of rhythmic repetition. These highly stylized rhythmic cycles gradually accelerate resulting in a mesmerizing experience.

With an attempt of capturing the aesthetics and energy of the Sanjo, Jin Hi Kim has developed a new piece, Sanjo Ecstasy. This suite has six sections that are performed without break over a ninety minutes period of time. Each piece evokes its own energy and then links to the next. They are immersed with tension and release. In this new work, three traditional Sanjo soloists move in and out of the traditional Sanjo form as the electric komungo layers new sonic textures upon them. Korean janggo and a Western drum set juxtapose the time sense between Sanjo rhythmic cycles and a free jazz time zone.