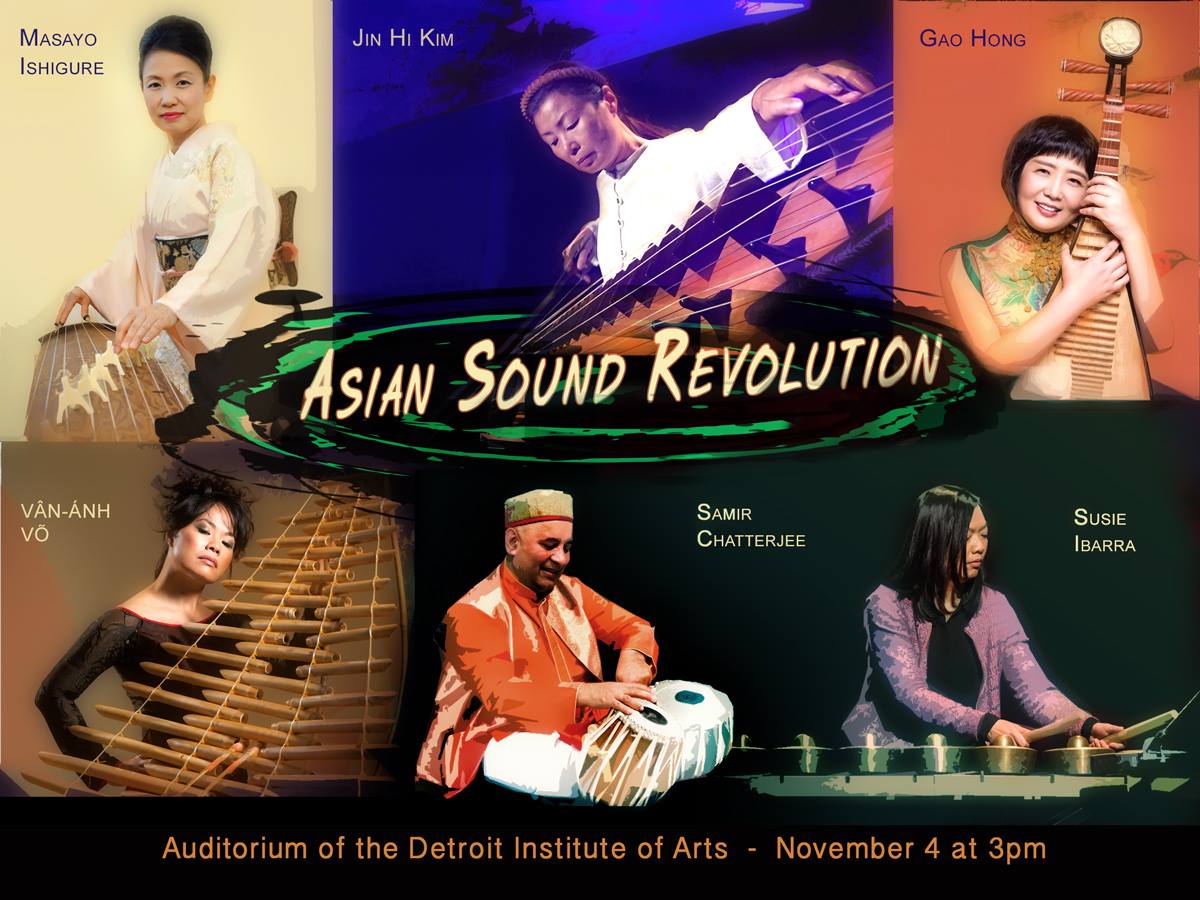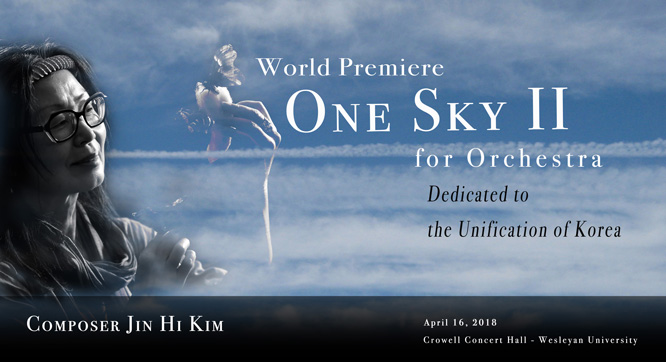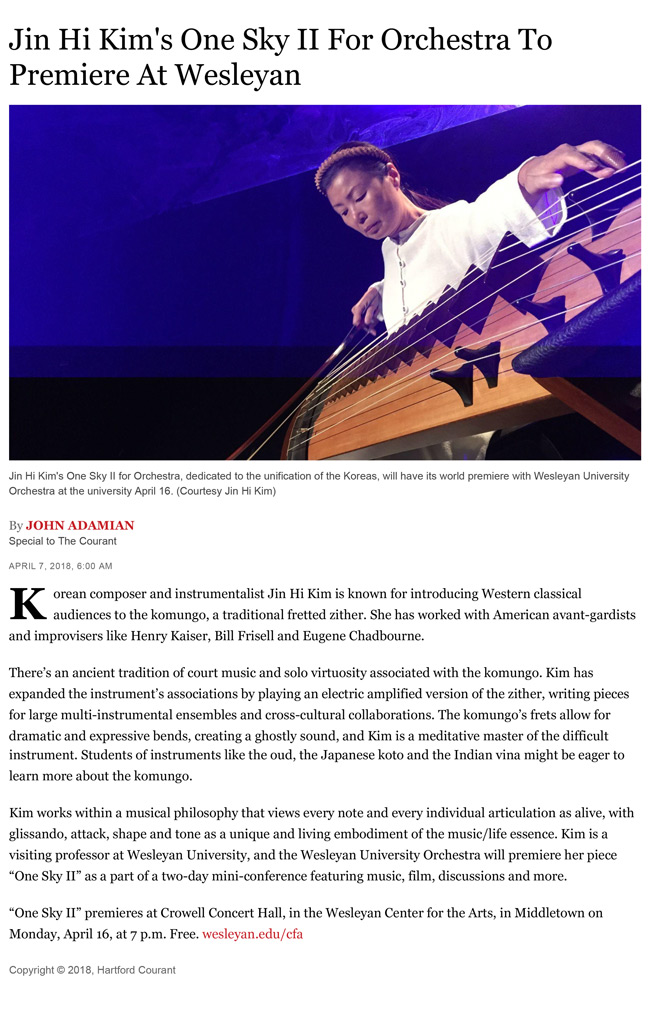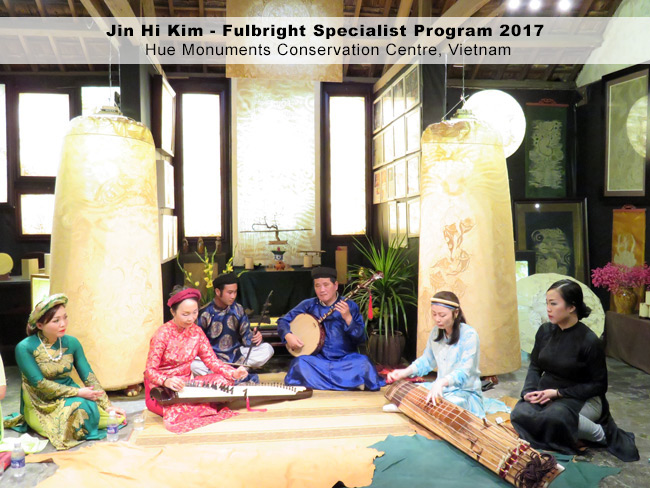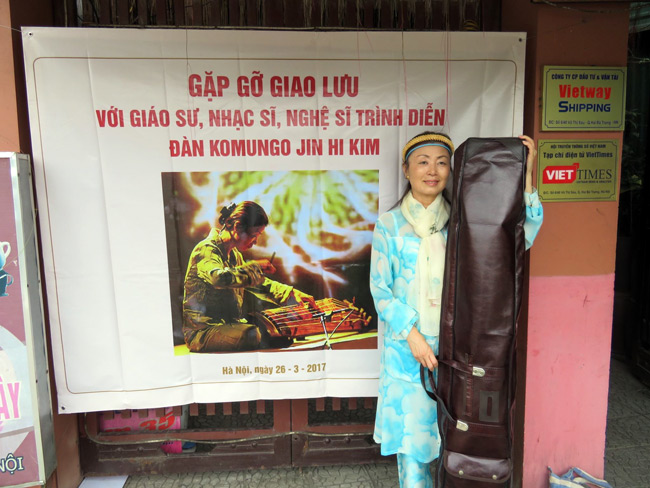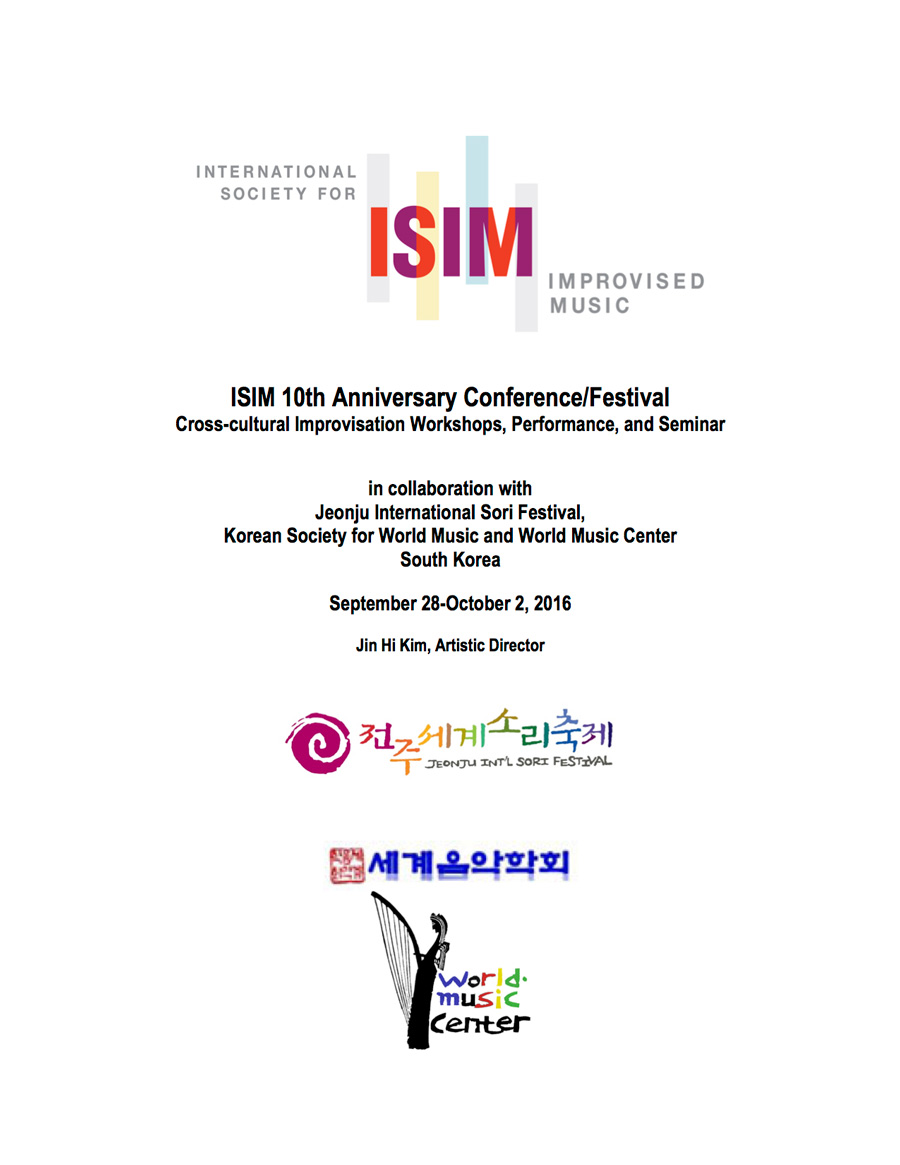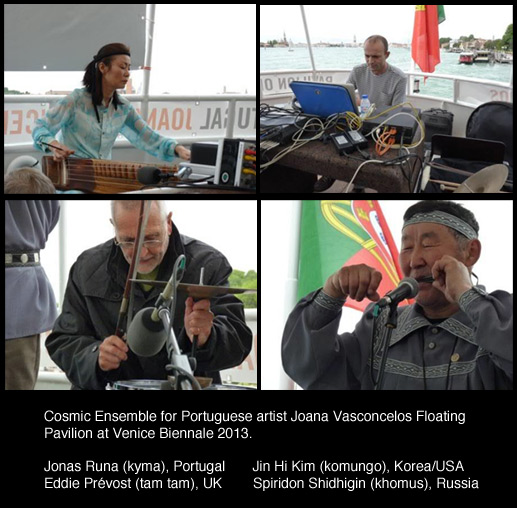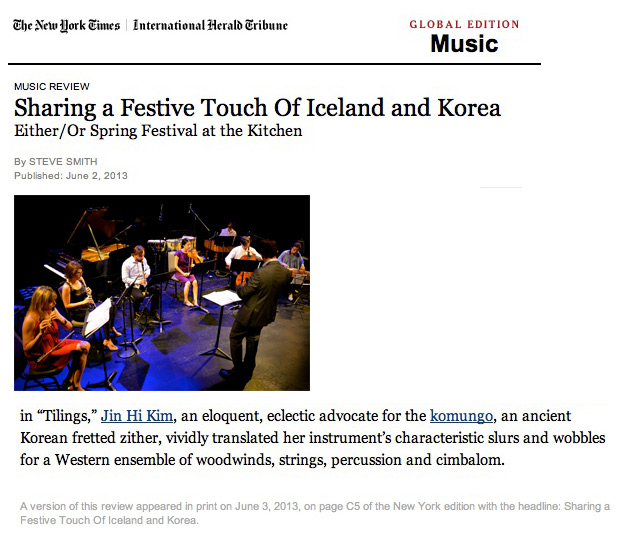 Jin Hi Kim performs as soloist for her composition Monk Dance (for orchestra and Korean barrel drums) with Empire State Youth Orchestra, conducted by Helen Cha-Pyo, on March 20 at Music Hall and May 22, 2011 at EMPAC, the new multi-media performance space at Rensselaer Polytechnic Institute in Troy. The May concert is the finale of Albany Symphony Orchestra's American Music Festival. Jin Hi Kim also plays electric komungo in her Nori III with ESYO's Youth Percussion Ensemble. The work was commissioned and premiered by New Haven Symphony Orchestra Percussion Ensemble in 2009.

In April 2010, Kim returned to New Haven Symphony Orchestra as soloist for her 2007 NHSO commission, Monk Dance. The work was also performed by Stanford Symphony and Key West Symphony Orchestra.
Kim plays Korean barrel drums for her Monk Dance with Stanford Symphony Orchestra 2007.
Brooklyn College Percussion Ensemble plays
Kim's Nori III Nov. 2009.
"Most exciting of the instrumental imports was the set of barrel drums used by Korean percussionist Jin Hi Kim in her own vibrant composition, "Monk Dance." …..leaving the audience breathless." David J. Baker, New Haven Register

"...the world premiere of a commissioned work, the colorful, engrossing "Nori III" for Percussion Quartet and Electric Komungo. The komungo she played is a large zither with a versatile range and tone. The infectious rhythms of the piece were playful all right, while suggesting the hypnotic, repetitive style of American minimalists like Steve Reich. Thanks to the exotic tones of the komungo and Asian percussion instruments (drums, bells and big forked rattles), the insistent pace never grew monotonous." David J. Baker, New Haven Register
Jin Hi Kim is Meet The Composer's Music Alive Composer-in- Residence (2009-2011) with New Haven Symphony Orchestra. Two commissioned pieces are NORI III for Percussion Quartet and Electric Komungo and Tribal Greetings for flute, bass, komungo and percussion. During the residency Kim has created and conducted highly succesful Music Meditation Workshop for youth and audalts in New Haven area.

Review: New Haven Register

(PDF)
Jin Hi Kim performs with Gerry Hemingway (percussion) duo version of Digital Buddha, a multimedia collaboration with komungo/electric komungo and video at Metropolitan Museum of Art (New York), Festival Salihara (Jakarta, Indonesia), Expo Cibao (Dominican Republic), Expo Zaragoza (Spain), Detroit Institute of Arts and many other places. The Duo CD, Pulses was released in 2010.
"Cosmic Music Meditation, as if their (audience) consciousness was carried into outer space." Tempo (Jakarta)
"Good music really knows no boundaries, neither of style or tradition or geographically. ... it emphasises and shifts and brings back and diverges and returns in a great mystical wheel of sound, whirring around a pole that is rooted in the ground yet facing upward." Stef, Free Jazz
"perhaps most important, is the remarkable morphing of the different instrumental personalities into a single entity comprising two souls. Kim's komungo – both in the acoustic and electric version – is a tool which, mainly designed for melody, nevertheless owns unmistakable percussive qualities, pretty evident in the way in which the strings must be energetically plucked during certain animated transactions. On the other hand, Hemingway's drumming receptiveness lets us envision a whole world of lyrical intuitions, which he adapts to the Korean partner's enchanting patterns and swirls by fusing his improvising self with her unique blend of Eastern tints and concentrated transmissions of energy. This amalgamation of inventive currents, instantaneous acceptance and clever elaboration of the result, appearing as natural as dribbling water on a spring's rock, leaves any academic issue out of the equation. Every minute of this CD is at one and the same time perfectly graspable yet rich in meaningfulness and non-conformism." -Massimo Ricci, Touching Extremes


Review: Tempo Magazine (PDF)
Review: Jakarta Post (PDF)

Review: Tempo (PDF)
Jin Hi Kim performed Digital Buddha at Festival Dos Abarazos, Santiago de Compostela, Spain on August 18, 2010. Kim's new direction of komungo solo recital, Digital Buddha is a 70 minutes long multimedia performance with video mandala and digital images with extraordinary juxtapositions, fast cut swirling images of a deconstructed electric komungo. The on-going project has been presented at Korea Festival, Metropolitan Museum (New York City), Bandung International Digital Art Festival (Indonesia), Art & Ideas Festival (New Haven, Cornell University, Yale University, University of Michigan, Roger Williams University Performing Arts Center, Roulette (New York City), Standford Pan Asian Music Festival, Hallwalls (Buffalo, New York) and many other places.

"Cosmic Muisc Meditation, as if their (audience) consciousness was carried into outer space." Tempo (Jakarta)
"True world music being made here, both ancient and modern and without borders. Outstanding."
Dennis Yudt, Pulse Magazine

Review: Galicia (PDF)
| | |
| --- | --- |
| | Conceived by Jin Hi Kim, The Asian Connection featured three Asian virtuoso improvisers Miya Masaoka (koto), Samir Chatterjee (tabla) and Kim (komungo/electric komungo) for World On Stage Festival at Cole Auditorium, in Greenwich, CT (May 10, 2009). |
In three decades Kim has performed in a free improvisation context at many international festivals with prominent Western avant-garde improvisers including Henry Kaiser, Elliott Sharp, Bill Frisell, Derek Bailey, James Newton, Evan Parker, Joelle Leandre, William Parker, Oliver Lake, Hans Reichel, Rudiger Carl, Peter Kowald, Eugene Chadbourne, Leroy Jenkins, Billy Bang, and Gerry Hemingway.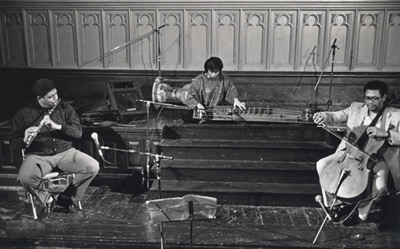 with James Newton and Abdul Wadul (1990)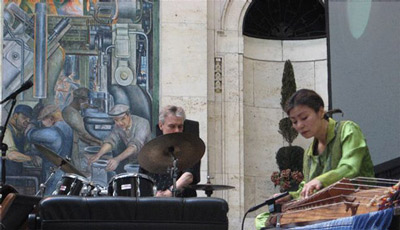 with Gerry Hemingway (2009)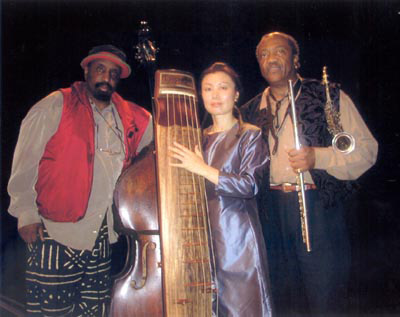 with William Parker and Oliver Lake (2001)
Kim's autobiography Komungo Tango, a 25 years journey of creative collaborations with master musicians around the world, was published in 2007, Seoul, S. Korea.

In 2007, Kim has composed the sound track using electric komungo for Koryo Saram (http://www.koryosaram.net/about_film.html), an hour long documentary film about Korean refugees from Russia to Kazakhstan, which was directed by David Chung, produced by University of Michigan and presented at Harvard University, Princeton University, Smithsonian Institution Freer Gallery of Art and the Sackler Gallery (Washington, DC) and international film festivals including San Paolo International Film Festival, Toronto Reel Asian International Film Festival, San Francisco Asian American International Film Festival, Vancouver Asian Film Festival and European Film Festival. The whole list can be seen at http://www.koryosaram.net/screenings.html
Kim's Eternal Rock II for Korean Barrel Drums and Orchestra was commissioned by Boston Modern Orchestra Project in 2006.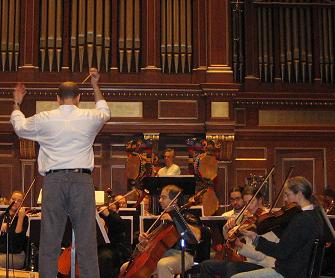 Kim's Eternal Rock II with BMOP conducted by Gil Rose and Gerry Hemingway as soloist
"Some of the orchestral writing sounds like movie music,but the way that Kim extends the effect of the drums by additional percussionists ringed around the stage is striking." Richard Dyer, The Boston Globe
Asian Sound Revolution
Traditional & Innovative Virtuosi Jin Hi Kim (komungo/electric komungo) and Min Xiao Fen (pipa/voice) perform on fretted string instruments from Korea and China.


Download PDF Poster


Following Jin Hi Kim's appearance in the national MBC-TV broadcast of the film <100 Years of Sanjo>, a 90 minutes long Sanjo Ecstasy, conceived by Ms. Kim, was premiered to overwhelming success in Korea in 2003.
Sanjo Ecstasy features new generation of Korea's leading musicians Ji Ari (kayagum board zither), Kang Unil (haegum fiddle), Pak Gunyong (janggo drum), with American jazz percussionist Gerry Hemingway and Jin Hi Kim's electric komungo.


Kim was awarded the 2000-2001 American Composers Orchestra Composer Fellowship, and her commissioned Eternal Rock for Orchestra and komungo was premiered at Carnegie Hall.

Subsequently the work was performed by Boston Modern Orchestra Project, Riverside Philharmonic, Seattle Creative Orchestra, KBS Symphony, and Key West Symphony.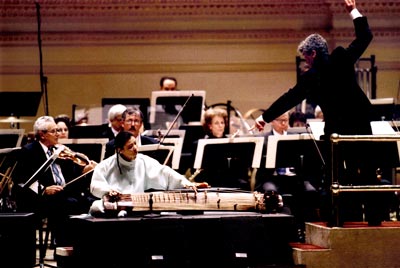 Kim with American Composers Orchestra, conducted by Dante Anzolini, for the premier of her Eternal Rock at Carnegie Hall (2001).

"[Eternal Rock] moved through the orchestra like a curious outsider, wondering at the range of sounds it can make and using it as an extension of twangy vocabulary of solo komungo." Anne Midgette, The New York Times

"Acoustically Eternal Rock is daring. It is not as westernized in that it doesn't use traditional melodies, but it has a lot of bite and impact and it's really visceral." Gil Rose, Conductor, Boston Modern Orchestra Project

In 2000 Kim's Dong Dong Touching The Moons, a 70 minutes long multi-media lunar ritual, won the Wolff Ebermann Prize for at International Theater Institute Conference in Munich, Germany. The work, commissioned by The Kitchen and developed at Mass Moca under Artist-in-Residence. The work interfaced electric komungo, Indian tabla, Korean kagok singer, Indian kathak dancer with a computer-controlled MIDI systems, sensors and digital animation.
It was premiered at the Kitchen (New York) and presented at the Kennedy Center (Washington DC) and Wittenberg University (OH).
"(Dong Dong Touching The Moons) Her unique vision blends science fiction images, state-of-the-art technology, ancient mythology and timeless music and dance traditions. No other artist is doing work quite like this, and she does it with superb style." Joseph McLellan, The Washington Post
Kim's widely acclaimed 90 minutes long cross-cultural mask dance drama, Dragon Bond Rite (1997), featured musicians and dancers from India, Indonesia, Korea, Japan, Tuva and the U.S., and was commissioned by the Japan Society through funds from Mary Flagler Cary Charitable Trust and the Rockefeller Foundation Multi Arts Production Fund. The work was developed at Rockefeller Foundation's Belagio Center (Italy) and the Walker Art Center (Minneapolis). premiered at the Japan Society, presented at the Kennedy Center (Washington, DC) and the Festival of Asian Art in Hong Kong.


Kim's Dragon Bond Rite, 1997
"[Dragon Bond Rite] cut across barriers of language, culture and tradition, touch us at deep, irrational levels, and result in a work that speaks to our common humanity." Joseph McLellan, The Washington Post

"In Kim's score, the styles of the master musicians actually merge." Deborah Jowitt, The Village Voice

"The production's drummers were percussion virtuosos, and its singers displayed a remarkable range of vocal techniques, from high-pitched chanting to deep, awesome rumblings." Jack Anderson, The New York Times
Kim's Voices of Sigimse was premiered by Chamber Music Society of Lincoln Center at the Lincoln Center Summer Festival 1996 with Kim as soloist and Tan Dun conducting.

"A gorgeously tactile piece that moved easily between an earthy folksiness and meditative refinement." Allan Kozinn of The New York Times
Kim's Nong Rock for string quartet and komungo was commissioned by the Kronos and premiered at Alice Tully Hall, Lincoln Center in 1992. Subsequently the work has been performed by Sirius Quartet (USA), Kairos (Berlin), Stadler String Quartet (Salzburg), Crane School of Music faculty, American Composers Orchestra members, and many others.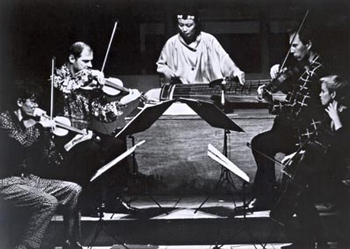 Kim with the Kronos Quartet for the premier of her Nong Rock at Alice Tully Hall, Lincoln Center in 1992
Josef Woodard of The Los Angeles Times wrote, "This [Living Tones] is new music/world music at its finest, beyond political correctness into the realm of the sublime, where words and cultural postures fall away."

"Her music is inspired by the delicately textured instrumental sounds of her own country. It could never have been written by a native Californian or New Yorker. It's exotic. It's different. It reflects its culture in the same essential way that Beethoven's quartet reflected his time." David Harrington of KRONOS Quartet

"[Nong Rock]...Savoring the life of each richly inflected note." Josef Woodard, Los Angeles Times

"[Nong Rock] Kim juxtaposes and synthesizes the timbres, techniques and even styles of East and West in a way that is at once jarring and inevitable." Dean Suzuki, Option Magazine
In 1989 Kim was invited to the Composer-to-Composer Telluride Residency with John Cage and other leading composers. In 1986 Kim began to be recognized as a composer when she was commissioned by the Kornos Quarter for her work Linking.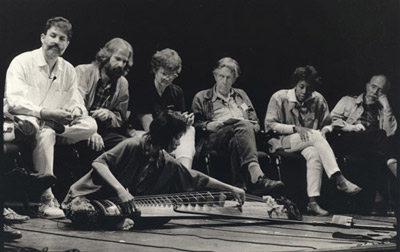 Composer to Composer (1989)
with Amirkhanian, Trimpin, Lockwood, Cage, Leon and Nancarrow

"(Linking) An essay in integration which suggested a Takemitsu-like ability to hover between eastern and western traditions." Paul Griffiths, The Times (London)

"(Linking) The delicacy of her effects (and of the Kronos Quartet's playing) were constantly riveting."
John Rockwell, The New York Times

"(Linking) She applied the concept of "living tones" from traditional Korean music to the Western string quartet. The effect is a vivid one, especially in the high registers, where pitches slide in and out of consonances seductively. Kim is a composer to be watched." Mark Sweed, Los Angeles Herald Examiner